To Catch a Predator:
An Interview with Paul Holes
Share this article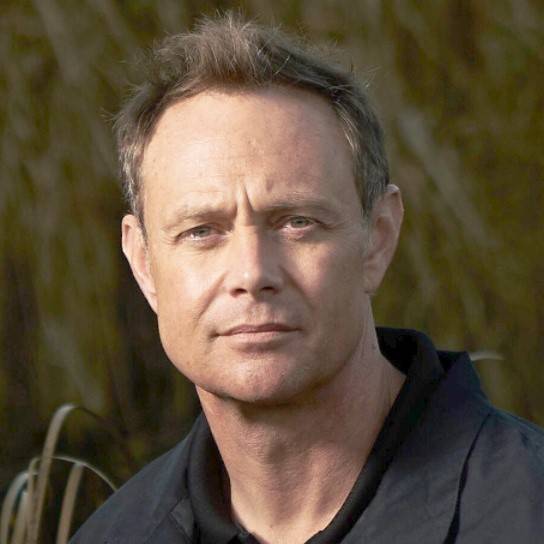 He went by many names. In Sacramento, he was known as the East Area Rapist. Southern California called him the Original Night Stalker. Others gave him the name Diamond Knot Killer and Visalia Ransacker. As he progressed to murder, he would become the Golden State Killer. All told, he committed over 100 burglaries, more than 50 rapes, and at least 13 murders from 1974 – 1986. Across the state of California, the same man was linked to these atrocious crimes. Investigators believed him to be a white male who stood about 5' 10" tall with a slender, athletic build, and type A blood, yet they couldn't put a name to these crime sprees – until April of 2018 when everything changed.
Paul Holes, a former investigator with the Contra Costa County District Attorney's Office, had been working the case for more than 20 years. He chased thousands of suspects and countless leads but hadn't been able to unmask the man who'd terrorized California. Nine months before he was set to retire, the unsolved cases continued to haunt him, and he wanted nothing more than to close this case.
In his keynote address at ISHI 30 this September, Paul will detail how investigative genealogy techniques, determination, and more than a little bit of patience led to the identification and capture of the Golden State Killer. We recently interviewed Paul and asked him what drew him to the Golden State Killer case, how he learned of investigative genealogy, and what advice he has for others in the field.
Hi Paul, we are very excited to have you present the keynote address at the 30th International Symposium on Human Identification! Genealogy has been instrumental in closing a number of cold cases and it's incredible to think that it was just a year ago that the Golden State Killer was unmasked.
First, can you tell us how you got your start in forensic science? What made you want to be a forensic scientist?
You know, I go back to when I was a kid, and I was watching an old TV show - Quincy. Quincy was played by Jack Klugman. He was a forensic pathologist, but he was more than just a pathologist. He was a crime scene investigator. He was a homicide detective. He wore multiple hats, but as I was watching that show I didn't know any different. I was just fascinated by this guy who is using science and using investigative avenues and tactics in order to help solve these cases.
And so, when I was completing my college education, my thought entering college, is I was going to specialize in forensic pathology to follow in Quincy's footsteps. But my grades pursuing a biochem degree were not up to par to get into med school, and I kind of lost any interest getting into the medical side of things.
As I was trying to decide what I was going to do with that biochem degree, I was exploring pharmaceutical sales and biotechnology, and this was in 1990 so this was really in the early days of biotech. I went to a job fair, and at that job fair, I'm standing in line for some biotech company, and I look over and there's a booth set up a couple booths away. And there's an old CRT TV set up there on a stand, and on the screen there is a guy laying on the floor in a kitchen, and there is a pool of blood around his head. Well that caught my interest.
So I got out of the biotech line, and got on over to that booth. And in that booth was Victor Ruiz, from the California Criminalistics Institute, and Victor told me all about criminalistics. It was at that moment that I was like "that's what I want to do."
After leaving that job fair, I went to the career center at UC Davis, and found a forensic toxicologist job announcement at Contra Costa County, and I immediately applied for that. I took the oral test, and ended up receiving my rank of number four. And I thought at that point in time, I'm done. Obviously, the number one person is going to get the job.
I ended up taking a job as a stocker at the Nut Tree Restaurant, which was a famous restaurant. They had a pumpkin patch coming up, and I literally was putting price tags on scarecrows when I got a call from Supervising Criminalist, Catherine Holmes, asking me if I was still interested in the position, and if I would come in for a follow-up interview.
Of course I did, and I ultimately got hired as a Forensic Toxicologist. That position was doing controlled substance analysis and alcohol analysis and impairment testimony. I did that for three and a half years but had my eye always on the Deputy Sheriff Criminalist Position in Contra Costa County. That's how I ultimately went to the Police Academy and was assigned to doing CSI work as well as the Serology Unit doing the old, conventional serology while we were getting the initial DNA technologies (DQ Alpha) on board within the unit.
You've held many roles throughout your career. Do you have any advice for those just starting out or for those looking to advance?
I worked in a variety of forensic units, which is typical for forensic scientists back in the day, and thank God I did, because I would go nuts if I was just assigned to one specialized unit my entire career.
Of course, I advanced. I became a supervisor and manager over different forensic science sections, and ultimately promoted up to the Chief of Forensics with Contra Costa County Sheriff's Office, which is the lab director position.
Ultimately, I became a cold case investigator. I decided the investigative side of things was really what I enjoyed, and I did that a lot even as a forensic scientist (much more so than would be allowed, if it had been known).
For those just starting out, do not limit yourself to trying to get that scientist level position, or that analyst level position. Get your foot in the door any way you can. If you see an intern position or a volunteer position in a lab, do it, and prove yourself in that position, and get to be known.
When I have counseled people who are interested in promoting up and becoming supervisors, I tell them to think long and hard about that, because a supervisor position is a very different beast than just being line staff just working casework.
You need to be a natural leader. You don't want to be a boss. You want to lead, and there's a big difference. I promoted up through many, many levels in the Sheriff's Office, and I will tell you that even though I learned a lot, and [had a] positive impact, my quality of work life did suffer in many ways. That's why I turned so heavily towards the investigative side, because it was my escape.
What makes a good cold case investigator? What characteristics does one need to have in order to become a good cold case investigator?
Cold case investigations, at least initially, are very different than active investigations. With cold cases, you have the ability to sit back a little bit initially and learn the case; understand what's going on, and start triaging the evidence, determining what evidence exists that could potentially help solve the case.
You also need to be able to ramp things up rapidly, because what I have found, particularly with the Golden State Killer case, is as I was marching down on various suspects, things start happening quickly, and you have to be able to respond. You do have to be flexible.
You also have to have a broad understanding of the types of criminal behaviors that are out there. [In] these cases with close interpersonal violence, the behavior that the offender exhibits gives you a lot of insight; not only to who he is in relation to the victim, but also what he's doing in the crime scene that might have left evidence to identify him.
I always tell people if you're an investigator, you need to get a better understanding of forensic science. If you're a forensic scientist, get a better understanding of what a criminal investigator does. And then, for both sides, understand the criminal behavior. It's so important, because you can't do that from the lab bench. You have to see it. You have to study it.
How did you become involved with the Golden State Killer Case? What was it about this case that drew you to it?
I literally stumbled across the Golden State Killer case. At the time, [he] was known as the East Area Rapist. As a new Deputy Sheriff Criminalist, I was just hungry for knowledge, and the Contra Costa County Sheriff's Crime Lab had this amazing library that the previous generation of criminalists had built up, and I spent a lot of time in there.
There was a file cabinet that nobody went into, and one of these days, I just decided to see what was in these drawers. In the bottom drawer was a set of manila folders with tabs that were labeled with a red EAR followed by a lab or agency case number. I started pulling these manila folders out, and that's when I saw these case files that were detailing these series of rapes being committed by this EAR (East Area Rapist).
And immediately, I was drawn to this case, because I had been exposed to criminal profiling. My parents, of all people, had bought me the text "Sexual Homicide" by Bob Ressler, John Douglas, and Dr. Ann Burgess. I had read that and became fascinated with serial predators.
I recognized that this predator was different, and I wondered if this new DNA technology (DQ Alpha) might be able to solve the case. And I started doing DNA technology on the cases and I didn't stop there. Obviously, it snowballed into me taking on a full-blown investigative role.
Your role in the case was somewhat unique in that you interacted with both investigators/detectives and the crime laboratories involved in the investigation…one thing that stood out in the book is that law enforcement agencies didn't collaborate with one another, particularly in the early cases.

On the other hand, the forensic DNA community is known to be quite collaborative where laboratories often share insights and key learnings so that their peers can learn from their experiences.

Why do you think there is a difference in approach between the two groups? Has law enforcement evolved to be more collaborative?
Each law enforcement agency has its own culture, and each investigator has his or her own ego. Both sides come into play, in terms of whether or not there is true collaboration.
Back in 2011, with the new group of investigators, one of the things that we did was share all our case information with each other and centralize up in the FBI's CJIS [Criminal Justice Information Services] as a SIG group (Special Interest Group) in which I could log in and read all of Sacramento's reports, or read Orange County's homicide cases. In many ways, I think the Golden State Killer case, in terms of it's collaborative approach over the decades, became a model that can be used as a template for other agencies that are dealing with these large, complex investigations.
Now, is there a difference between crime labs and law enforcement, in terms of how they collaborate? I think it's just so different in terms of the functions. Crime labs, and the scientists that are working on the cases are typically pretty far removed from the front lines of the cases themselves, and there is sort of an academic culture within crime laboratories where the sharing of information and debating information is part of the culture, whereas law enforcement really doesn't have that.
What led you to try a genetic genealogy technique as a way to solve this case?
I know [genetic genealogy is] how the genealogists refer to it, but we moved into calling it investigative genealogy. And there's a reason for that. The information that I'm getting when I search a genealogy database does not provide me anything about somebody's genetic information. I never have access to anybody's DNA profile from the genealogy databases. So we want to emphasize that really what we're doing is we're trying to see how much DNA, how many centimorgans people in the database share with the offender. That's all I get. I just get a number.
I ended up finding out about this technique from another case. In researching [a perpetrator's background from a different crime], I found that he had been arrested for child abandonment in 1986. The child that he abandoned was this little girl named Lisa Jenson. We started looking into this for the more recent homicide case that occurred in 2002, and he was claiming Lisa was his biological daughter, and DNA quickly showed that it wasn't. The primary investigator on the case was convinced that Lisa was probably abducted somewhere across the United States, and was a missing girl somewhere else. We spent 15 years trying to identify Lisa using traditional DNA and traditional law enforcement (missing persons investigative resources) and could never do that.
On February, 2017, I got pulled into a conference call with the lead investigator from that case as well as a San Bernardino Detective, Peter Headly. And Headly said that they had identified Lisa, and it turned out her name was Dawn Bodin, and she was a missing girl out of New Hampshire. I said, "how did you do that?" And he said, "I used a genetic genealogist through DNAadoption.com. Her name was Barbara Rae-Venter."
So when I left from that meeting from that case, I called up Barbara, and was like, "I've got this other case. Could you help me with this?" And that's how I got initially exposed to this investigative genealogy technique and how I got involved with it.
Who was involved in the efforts, and how many hours did it take to get the profile?
Getting the profile was a big step, and part of the problem that I had, because of all the Y testing I had done, I had consumed the DNA from the rape cases from Contra Costa County. In order to get the SNP profile generated, I needed one of the southern California agencies that still had their homicide DNA evidence to give me some of their DNA to get that SNP profile.
I talked to all the southern California agencies, and ultimately Ventura DA's Office was the one who said, "You can use our sample." And that sample was semen evidence from a vaginal swab that was collected at autopsy from Charlene Smith. Charlene and Lymon Smith had been bludgeoned to death by the Golden State Killer in their bed in Ventura back in March of 1980. Fortuitously, as it turned out, the pathologist made it a habit to collect two sexual assault kits at a time – one that he gave to the investigating agency, and one that was kept at the Coroner's Office, which had never been touched.
When the Ventura Crime Lab tested the vaginal swab, it came back with a huge amount of the Golden State Killer's semen, and they were able to extract and get very clean sperm fraction, and we ended up getting a lab to generate a SNP profile.
Then it's just a matter of creating a user account in GEDmatch, uploading that profile, then waiting a day for the GEDmatch algorithms to generate the spreadsheet of individuals in the database and how much DNA they share with your offender profile.

So within 24 hours, we had a list of names, and that's when we started doing the genealogy. One of the things that I point out with this investigative genealogy aspect is that it's 99% traditional genealogy work. It's building family trees and for Golden State Killer, because our best matches were just initially third cousins, this took a long time.
There were 5 of us on the law enforcement side and Barbara. We started building the family trees from these people that shared DNA with the Golden State Killer. The critical thing, initially, is identifying common ancestors between these matches from the database. Once you get that common ancestor, you're identifying every single descendent from those common ancestors, and this is a huge undertaking when you're talking about 3rd cousins. For the Golden State Killer, these were people who were born in the 1840's. And these trees got huge as we were building them out. It took us four and a half months until we got down to where DeAngelo was the lone male remaining that appeared to have enough about him to pursue him investigatively.
What challenges did you have to work through when applying this method?
You do run into brick walls, and when we ran into a dead end within a critical tree, we would have to reach out to additional resources to help us. As an example, we needed to figure out the parents of this particular woman, and we felt that the parents were potentially buried in a cemetery in New York, so one of my counterparts from the Sacramento DA's Office reached out to New York State Patrol to have an investigator dispatched to a cemetery to take photos of headstones so we could verify who the parents of this woman are.
Barbara had noticed early on that the Golden State Killer seemed to have a fair amount of Italian in his ancestry, and of course, this was news to us. The Y testing had strongly suggested that the paternal lineage was a British Isle, Western Europe, not Italian. Some of these Italian names in the database excited us, but some of their families had immigrated so recently to the United States, [that we needed to track them back to Italy.]

The Italian records just were not available online, and it was going to require someone over in Italy to go around and start researching the various resources of genealogy information; old churches and stuff like that in order to flush some of these trees out. Ultimately, we didn't have to do that.
What did it mean to you to be able to bring closure to DeAngelo's victims?
You know, this is an interesting phrase – closure. Whether you talk to the surviving victims or families of the victims that were killed, they never feel closure, because no matter what, they've suffered a tremendous loss or a tremendous trauma. So instead of using the term closure, what I say is that I'm bringing them an answer. They now know who attacked them or they know who killed their loved one, and that is huge to these people, because up until this point in time – 40 years in some instances – it's been a big unknown, and some of these living victims have lived in fear that this guy was still out there and he was going to come back and get them.
So, for them to understand who it was is a huge thing for them and a relief, and I experienced that relief first-hand in being able to tell them "We got the right guy. No question about it. And he's never going to get out again." And some of these victims just started sobbing from that relief. Biggest reward I've ever had in my career was talking to some of these victims.
What do you foresee for the future of genetic genealogy?
I think the Golden State Killer Case was the first case in which we identified an unknown offender using this technique. Since that time, there's been more than 25 cases across the nation that have been solved using this [technique].
I think it is going to be a tool that is going to cement itself as a tool for law enforcement, and ultimately, I do think that this is something that is going to make its way within forensic laboratories. I think it needs to. But, we're in the very early stages of utilizing this tool. It's not without its controversy.
Obviously, there's a lot of privacy concerns with law enforcement accessing genealogy databases. There's going to be a lot of debate as we move forward to how law enforcement is going to be able to continue to use this tool. I know my hope is that we will be allowed to continue to use it (in an appropriate manner) using best practices with some strict oversight.
In many ways, I compare it to what you have to go through to do a wiretap. When you have to do a wiretap, you have to convince the magistrate that you've exhausted all other leads and there's a lot of controls that are put in place, and a lot of monitoring put into place as you proceed with the wiretap operation.
I wouldn't want to see an unnecessary level of bureaucracy on the investigative genealogy front, but I could see where there would be a good reason to have some sort of oversight or SOPs that need to be followed in order to proceed appropriately using this tool. And this tool should only be used on your major violent offenders – your sexual assaults or your homicides. This is not a tool for your lesser crimes.
What are your thoughts on the bill introduced in the Maryland State Legislature that would prohibit the use of genetic genealogy due to privacy concerns?
I haven't read the bill. I think privacy concerns that people have are usually misguided and ill-informed. The thought is that I, as a law enforcement officer, am accessing individual's DNA profiles and that I have information to their genetic pre-dispositions, and it's so far from that.
When you really look at what this tool did in the Golden State Killer case, we saved hundreds of people from having law enforcement knock on their door and ask for their direct DNA sample, because they happened to look like a hand-drawn composite of the Golden State Killer that had been created back in the 1970's.
To be frank, we frequently look at Facebook pages. Instagram. Twitter. All these other social media accounts and get so much more information about somebody's personal life going after that kind information than what we get from searching a genealogy database.
Now that you've retired, what's next for you?
I've signed a contract with the Oxygen Network, and I'm hoping to be able to do shows for them in which I'm helping other agencies with their unsolved cases. You know, tell the story of the case, but also see if I can bring a level of experience or expertise (or even resources in some instances) to be able to help that agency get that case solved. It's overwhelming at times, because it's so different, but it's exciting at the same time.
Do I miss the work? Well, yes, there's no question. After the Golden State Killer was solved and I retired, there was definitely a void, and that's where I think that helping these agencies with their unsolved cases will help. It's not the same, but I think it will help placate that itch that I have to continue doing something.
The Golden State Killer is obviously my biggest case, and one that I was very passionate about, but I have other cases that I'm still passionate about that are still unsolved. I have times when I want to pull those out and get rolling on those, and I may. We'll see how time goes on.
Paul, thank you for talking with us today. We can't wait to hear more in September!
Register by July 15th to receive $100 off of the standard registration rate!