New Advances in DNA Technology to Assist with Mass Casualty Disasters
Interview written and condensed by Tara Luther, Promega
Share this article
In 2015, then-FBI Director, James Comey, said Rapid DNA would "help us change the world in a very, very exciting way."
Allowing for DNA profiles to be obtained from buccal swabs in a hands-free manner from a reference swab in under two hours, the technology has many applications.
Since the passing of the Rapid DNA Act in 2017, Rapid DNA platforms are being used in several different laboratories as a means to compare an arrestee sample to the CODIS database, or as a way to separate co-mingled remains. Rapid DNA is a powerful tool in mass fatality situations, such as the California Wildfires of 2018, where time is of the essence.
At ISHI 30 this year, Mandy Sozer of SNA International will be co-chairing a workshop entitled Are You Prepared for a Mass Fatality Incident Response? In this workshop, attendees will work collaboratively in small groups to evaluate a mass fatality accident and organize an appropriate Rapid DNA response for victim identification using The American Society of Crime Lab Directors (ASCLD) response tools and best practices.
We caught up with Mandy to discuss how ASCLD is mobilizing Rapid DNA units to mass fatality sites and what the public response has been so far.
Mandy, thank you for joining us today. Can you please tell us a little bit about your background and about SNA International?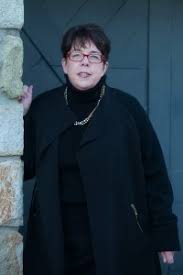 I got my start in using DNA for human identification right out of graduate school, when DNA fingerprinting was just starting in the US. For my dissertation, I mapped mouse retroviruses using restriction enzymes combined with radioactive probes and Southern blotting. After graduate school, I applied to an opening at Cellmark Diagnostics where I could use these same techniques to identify criminals and answer questions on how people were related. This was well before CSI was on TV. Nonetheless, it was a very exciting time to be at the forefront of using DNA for forensics and having those results used in courts of law. While I was involved in some criminal work at Cellmark my main focus was on relationship testing, which I found most interesting.
After several years with Cellmark I took a position at Fairfax Identity Laboratories, where I managed paternity operations and developed convicted offender DNA profiling services and forensic testing services. I stayed at Fairfax for a number of years, where the business grew to the point where we were testing approximately 100,000 samples a year.
While I enjoyed the challenge of running labs, I found myself intrigued by the consulting world. In 2001, I left Fairfax and started my own consulting business.Shortly thereafter, I was asked by the National Institute of Justice (NIJ) to respond to the World Trade Center 9/11 disaster, the largest human DNA identification effort ever undertaken. It was complex and fast-paced. Fortunately, I was able to use what I had learned from large-scale DNA relationship and forensic testing to facilitate the World Trade Center DNA Kinship and Data Analysis Panel (KADAP) for NIJ.
Most importantly for me both personally and professionally, in 2002, while riding on a train back and forth from DC to NYC, Steve Niezgoda and I started Sozer, Niezgoda and Associates, LLC, now known as SNA International. Our mission is to help build a safe and just world by empowering organizations in the use of human identification and forensic science. We have expanded from mass fatality response and planning to include pharmacogenetics, laboratory operations and accreditation consulting, genealogy research, information technology identity intelligence, and Rapid DNA technology implementation.
In 2005, we were tasked with managing the identification efforts of victims post-Hurricane Katrina. Since then, SNA and our professionals have responded to more than 50 mass fatality incidents, and our forensic scientists have supported forensic operations at the local, state, and federal levels, as well as internationally. SNA also supports the Department of Homeland Security's efforts to commercialize Rapid DNA, a government-led innovation to get human DNA results in hours instead of weeks.
I'd love to learn more about your collaboration with ASCLD to mobilize Rapid DNA instruments! How did this project get started and what is the goal?
Following Hurricane Katrina, we recognized that there was no group response for DNA operations similar to the way the Disaster Mortuary Operations Response Team (DMORT) operates for morgue operations. This led to the National Institute of Justice (NIJ) providing support for a forensic DNA "Co-Op."
Following Katrina, NIJ funded forensic DNA analysts from around the US to support the DNA efforts in Louisiana.Analysts came for two-week periods and, after rigorous training and a competency test, they supported the data analysis section of the DNA identification operations.
The benefits of this Co-Op program were two-fold. First, the forensic DNA analysts provided much-needed staffing relief to the DNA identification effort and secondly, they learned about the intricacies of a complex DNA identification effort using kinship testing. NIJ's hope was that it would help better prepare them for future events. Unfortunately, following Katrina there was not much interest from the government in keeping the group going.
In 2015, SNA responded to a Broad Agency Announcement from the Department of Homeland Security (DHS) and has since supported DHS's Science and Technology (S&T) Directorate's strategic implementation of Rapid DNA. It was at this time, after we had hands-on time with DHS's Rapid DNA instruments, that we realized the tremendous value Rapid DNA can bring to a mass fatality response incident.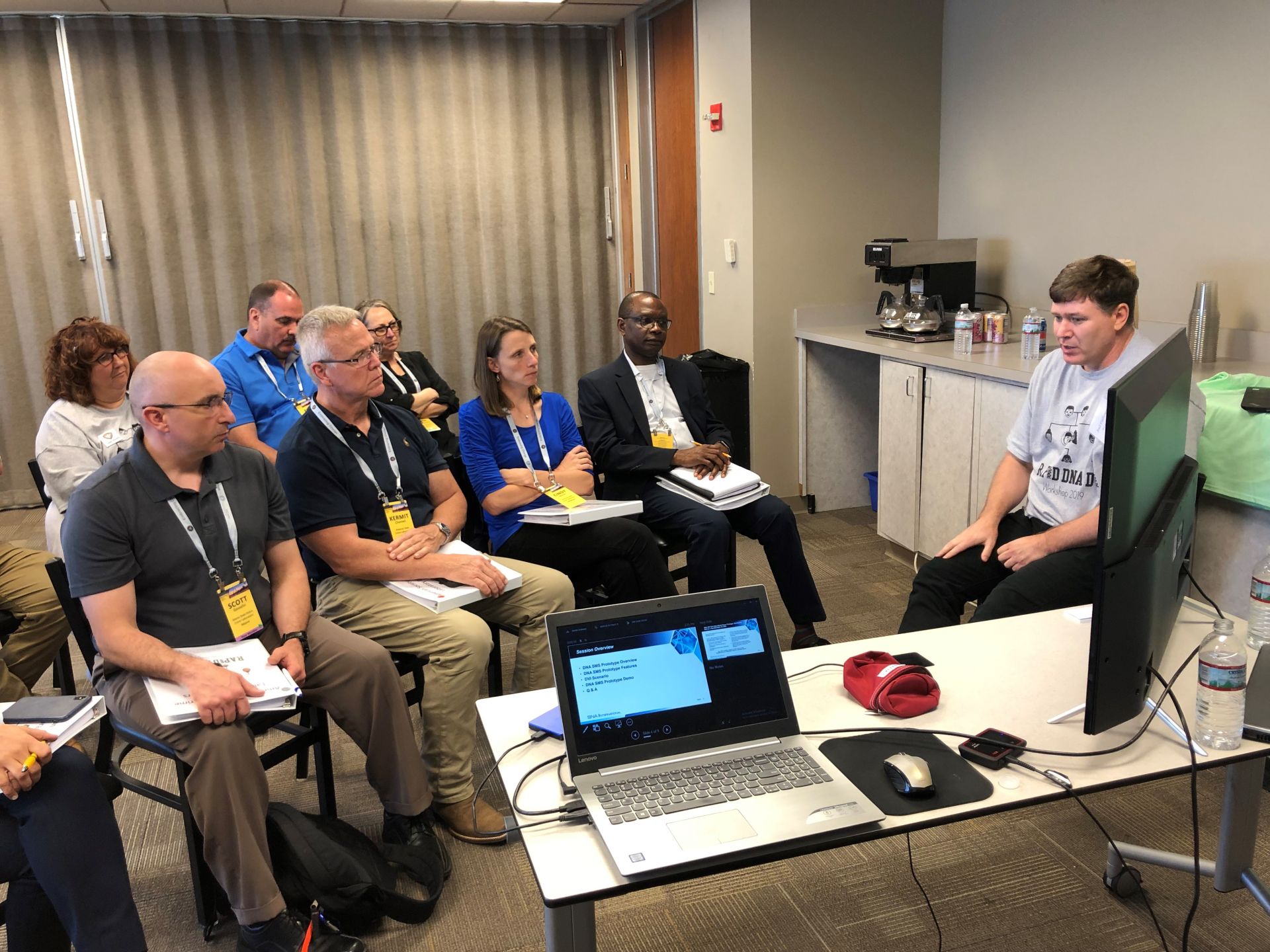 Attendees participate in a Mass Disaster Response Workshop at ASCLD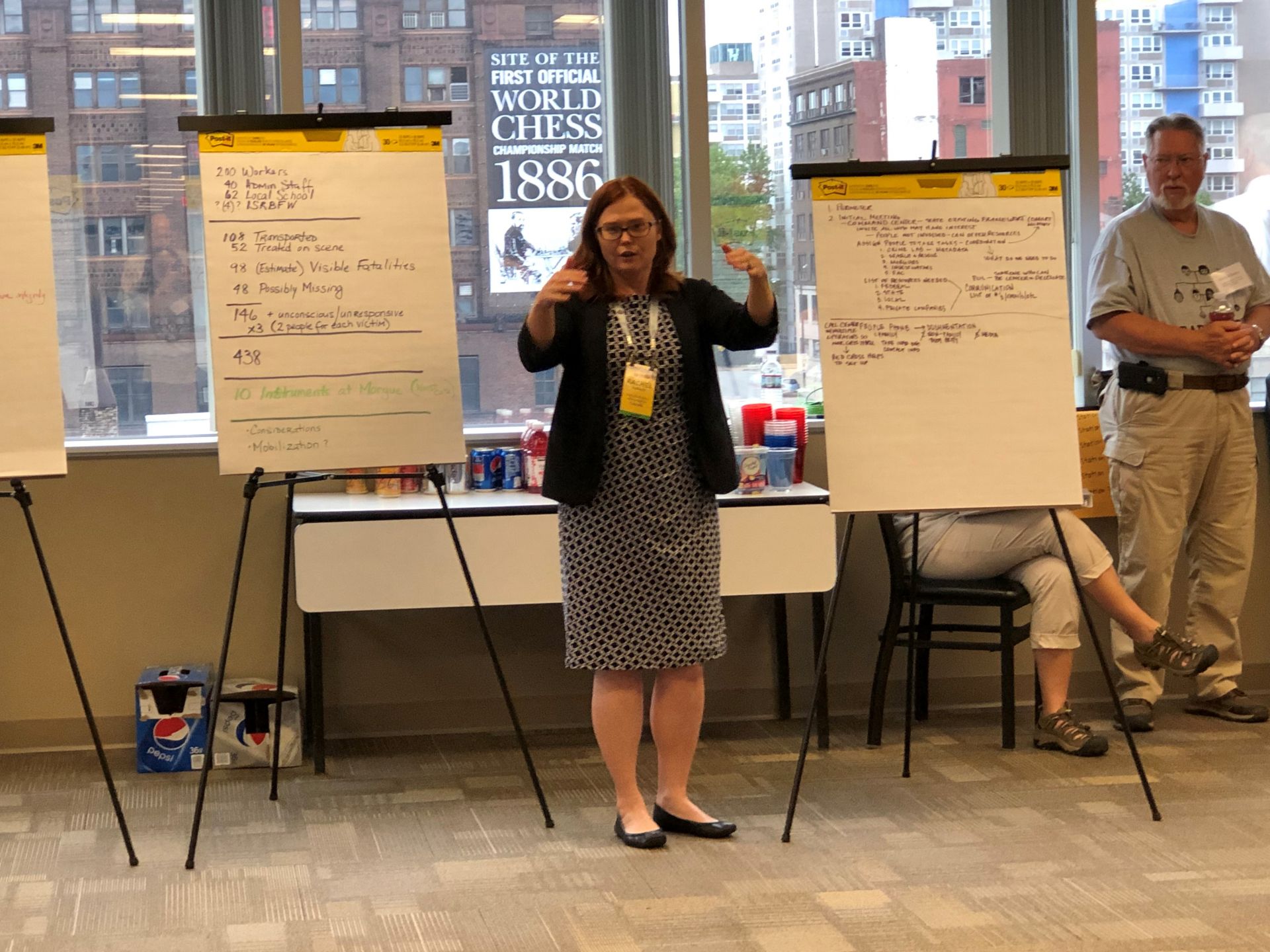 SNA hosts Mass Disaster Response Workshop at ASCLD
DHS S&T was also interested in collaboration, and we started attending mass fatality exercises - at first to see if the instruments could even get to the sites and be used. As the year went on, we attended more exercises using the instruments in more intricate ways, such as deploying to a 'hot zone.' The culmination of this was a collection of instruments from different agencies being used cooperatively in an exercise in Miami in May of 2017, where the viability of this type of approach was noted by DHS S&T and others.
The ASCLD Rapid DNA Task Force began in April of 2017 but the DVI subcommittee materialized at the RTI Rapid DNA Technology Forum in August 2017, when Rapid DNA users from around the US came together to discuss the technology and its applications. The goal of the ASCLD Rapid DNA Task Force is to determine best practices, develop models and policies, and to be an important resource during times of need.
Which labs are participating?
There are currently approximately 40 members, representing every level of government, from over 16 states.
When are mobile labs appropriate?
Mobile labs are appropriate where quick, accurate identifications are a key feature of an effort. Examples might include mass fatality incidents where the condition of the remains (e.g., decomposition or fragmentation) does not allow for other traditional methods of identification, or if there is a radiation or chemical element to the incident. The use of Rapid DNA instruments speeds the identification effort, bringing answers to families faster.
What are the benefits to these mobile labs versus a traditional lab?
The benefit of a mobile lab is that it can be parked wherever the response operations are taking place, or the instruments themselves can be transported to the operations sites: we don't have to worry about the time it would take for samples to be transported to a traditional lab. Having the instruments on-site also simplifies the chain of custody and lessens the chance of mixing up samples. Additionally, this time saving translates to cost savings because the quicker identifications are made the less time the incident morgue and Family Assistance Center (FAC) have to operate.
How has the reception been to these mobile labs from the public?
We have had a really positive response from the public. For instance, at the FEMORS Preparedness Exercise in Miami in May of 2017, we surveyed the actors who participated in the exercise at the FAC. 100% of respondents felt that the use of Rapid DNA showed that the authorities were working diligently to identify loved ones. The vast majority (77%) of respondents felt that Rapid DNA was helpful in the mass fatality incident response and were supportive of government use of Rapid DNA for identification of missing persons in disasters.
I think that the public understands the potential for Rapid DNA to really make a difference. I was out in California during the Camp Fire mass fatality response last fall, part of a government-sponsored group observing and evaluating the Rapid DNA response. I was able to witness the tremendous power of Rapid DNA first-hand. In the majority of cases, more traditional methods of victim identification were virtually impossible because most remains were burned, leaving few physical characteristics intact. Rapid DNA was very helpful in identifying cases where samples were collected and run in the FAC: over 85% of remains were identified through Rapid DNA.
Mandy Sozer of SNA International describes how DNA technology has changed over the past 30 years and how new advances are helping to bring closure to families of mass casualty victims.
We also discuss the importance of educating the public about DNA for forensic use and why women seem to be drawn to the field of forensic science.
As a veteran in the forensic DNA field, how has the field changed since you first started? What do anticipate the next 5, 10, or even 20 years looking like?
Since I started, what has really changed has been the sample size and the sensitivity. I believe that DNA testing will continue to get smaller, faster and more automated, and this will allow us to do more with it!
What changes have you noticed throughout the years?
One thing I have noticed is that DNA is becoming faster, we're using it more, and for new applications. One new application SNA is involved in is using DNA as a biometric like fingerprints or facial/iris recognition.
SNA has been working with the Department of Homeland Security's Office of Biometric Identity Management (OBIM) to develop a Store-Match-Share (SMS) software prototype that will allow DNA to be a modality of biometric identification. This is a really exciting project as it uses information technology to streamline DNA data analysis and reporting. This was the idea that started SNA back in 2002!
The SMS program establishes a capability for DNA as the newest new biometric modality within DHS and has five core DNA-related use cases upon which all DHS mission scenarios are based. These five use cases are: kinship matching when all family members are in one location; kinship matches when family members are separated geographically; finding direct DNA identity verification matches; tracking sample collections and searching against DNA databases. All searches are real-time and nearly everything is automatic. The software is also smart as profiles do not need to be "perfect" -- the software can accept partial or less than perfect profiles.
In addition to the Federal Government, I think this new technology will be of great interest to the state and local Rapid DNA users to be faster and more efficient and effective in how we search and Report DNA profile matches.
How many ISHI meetings have you attended?
I know I didn't attend the first one, but I have tried to attend every meeting as long as I wasn't due in court. I think there are only a handful I have missed since its inception!
Do you have any favorite memories from past meetings?
ISHI puts on such great meetings and chooses such great resorts. I remember the early meetings at La Posada Resort and in the evenings, sitting around the gorgeous pool!
Mandy, thank you for joining us today. If you would like to learn how you and your lab can be better prepared for a mass fatality event, consider attending the HITA Workshop (Are You Prepared for a Mass Fatality Incident Response) on Sunday, September 22nd. Registration is free to those attending ISHI 30.